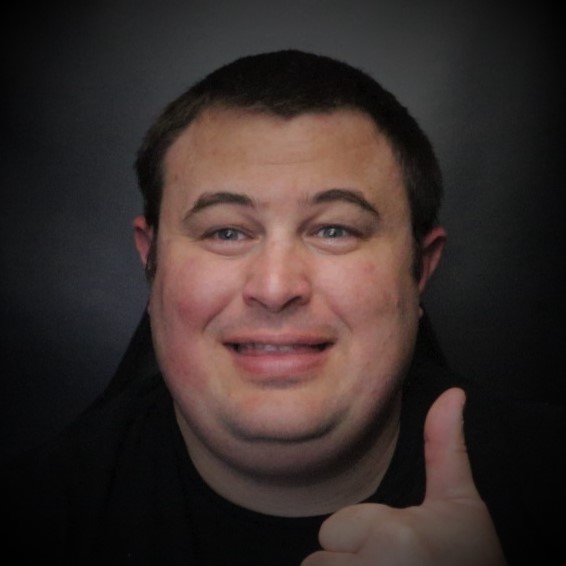 DeafBlindness doesn't stop this man from living beyond his challenges every day. Kelvin lives with Usher Syndrome Type II, which affects his hearing and vision. When Kelvin speaks, it can be hard to understand him, because he can't hear himself talking. By 2020 Kelvin had lost all the clarity in his vision. Despite all his trials and difficulties, Kelvin still says, "it's a beautiful day in the neighborhood".
Kelvin started a company called the DeafBlind Potter, through which he sells all his own pieces. He is also the CEO and founder of Smart Guider, Inc., which manufactures the lighted blind cane. Living Beyond The Label is another of Kelvin's foundations, where he encourages all of us to live beyond whatever label society has placed on us. Within the last few years, Kelvin and his amazing wife have become foster parents as a way to nurture young people who are also struggling with their own challenges. These are the ways Kelvin perseveres through his trials and shows everyone it is possible to live beyond a label.
Meet Kelvin Crosby
President Obama even had the privilege of meeting Kelvin Crosby and you should too!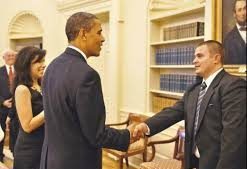 Kelvin's Life Mission
"Rejoicing in our sufferings, because we know that suffering produces perseverance; perseverance, character; and character, hope. And hope does not put us to shame, because God's love has been poured out into our hearts through the Holy Spirit, who has been given to us." Romans 5:3-5
Kelvin lives by these verses everyday and wants to show you how to have joy, even in your suffering. His drive to help others — especially those with their own disabilities — is the the defining characteristic that makes people want to meet him, listen to him, and join with him in overcoming the challenges of life with joy and courage.
What Does Kelvin See?
Today, Kelvin's vision is like looking through a straw covered with wax paper. Although he can still see some colors and a vague outline of shapes, he no longer can discern details. Kelvin relies on his white cane and guide dog to help him navigate the world. 
Kelvin is the DeafBlind Potter
The DeafBlind Potter was established on December 1st, 2020. In its first four days on TikTok, the company gained over ten thousand followers; Kelvin's initial three videos received more than one million views. The DeafBlind Potter platform was designed to be an inspiration and encouragement to help others live beyond their challenges just like Kelvin, the original deafblind potter. At the time, Kelvin didn't realize people wanted to purchase the pottery pieces that he crafted during the creation of his social media posts. This desire eventually opened the door for the foundation of the DeafBlind Potter shop. Within three months of its existence on TikTok, the DeafBlind Potter has grown over two hundred thousand followers. Join and support Kelvin on this journey with the DeafBlind Potter by following him on social media, liking his videos, and purchasing one-of-a-kind pottery pieces, as well as other merchandise. Most of these proceeds benefit the deafblind community by funding production of the See Me Cane™.
Kelvin is the Founder and CEO of Smart Guider™, Inc.
The video to the left shows an example of one of his products. See Me Cane™ is a lighted blind cane, which makes blind individuals more easily visible, especially at night, and allows them to travel safely. It is estimated 1 in 3 people who are visually-impaired will be hit by a car in their lifetime, which is why Smart Guider™ has created the See Me Cane™.
Kelvin founded Living Beyond The Label
As Kelvin says, "Go live beyond your challenges." It's a daily battle to overcome the label of DeafBlindness. Because Kelvin does not let this categorization stop him from conquering his challenges, he established his own company — Living Beyond The Label — to help people with disabilities recognize their potential and live beyond their labels. 
Kelvin saw an opportunity to make the DeafBlind Potter and use his story to build a business that allows people to be inspired.  Living Beyond The Label is a platform that provides the structure to empower someone with a disability to take an idea and make it happen, just like Kelvin did.  
Living Beyond The Label is a For-Profit Corporation.
Schedule Kelvin to Speak
Need a speaker for your event? Kelvin would be happy to help motivate and encourage your attendees. Are you a church that needs a message to help your congregation better understand the power of God's joy and peace during hard times? Are you a Special Education teacher wanting to uplift your students? Even if you just want some encouraging words, please contact Kelvin by clicking the button to the right.